Hey, kids, its:
COTTSWEB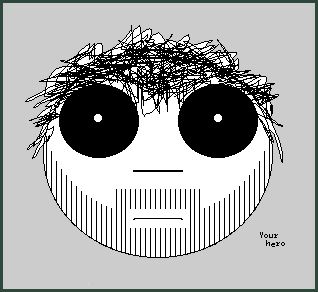 "POORLY FORMATTED FOR YOUR SURFING PLEASURE."
CONTENTS
Your gateway to magic and wonder....

DON'T CLICK ME!
It's the....
COTTSWEB
iFAQ
*30* WEBCOLUMN / BLOG / WHATEVER
*30*.

fiction / "poetry" / satire
"An Index Of Metals."
Liz The Forever -- coming never! Read about it here.
The Wonderful World Of Theodore Lamna.

avant-garde
Shattered Text For Space Metalizer.
music reviews
What The Hell's That Awful Noise?
be like Brian
Read What He Reads!
bio
Everything you need to know about Brian.

links
Links.

technicalities
Copyright Data.

heaven
"HEAVEN."
What's New?
Talk To Us, Dammit!
What's Going On?
Sign My Guestbook
View My Guestbook
Last Updated:
Aug. 23, 2006
Cottsweb Went On-Line (...finally...) On:
Mar 7, 1999
.
The contents of these pages are copyright © Brian Cotts unless contextually noted, or noted here.
...
...
...



Your Hero.